This is what your donations do!
Horse Protection Association of Florida takes malnourished "rescue horses" and makes them whole again
February 24th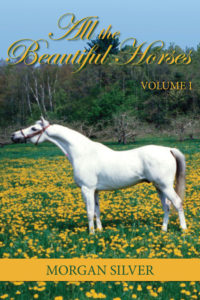 All the Beautiful Horses, Volume 1
by Morgan Silver
If you love and admire the majestic spirit of horses, you will appreciate Morgan Silver's dedicated efforts to save them. She is founder of Horse Protection Association of Florida, one of the oldest and most respected horse rescue organizations in the country.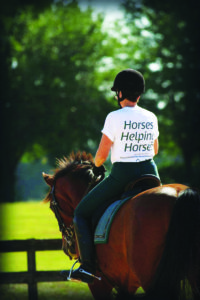 H
orses that come to Horse Protection Association of Florida are typically malnourished, which is what comes to mind with "rescue horses". These horses in immediate need of assistance are from law enforcement agencies and other venues. The malnourished and neglected horses in our care receive proper nutrition, veterinary care, hoof care and daily hands on care to bring them back to a healthy state. However rehabilitating malnourished, abused and neglected horses is only a small part of what Horse Protection does. Once they are on the road to recovery the real work begins.
Almost every horse requires training or retraining. And training is a central part of the rehabilitation for horses at Horse Protection. Many of the horses have been mishandled or physically abused. Some have never been handled at all and are feral—never haltered, lead or taught to accept routine and necessary care. When a horse has never known the kind touch of a human hand and is fearful of any interaction or routine handling, the task to bring the frightened and untrusting horse to where we are their trusted partner is monumental.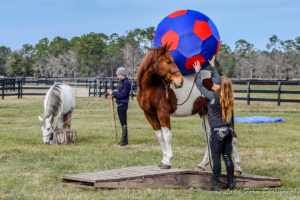 These horses have been hurt whether physically, emotionally or mentally. Horse Protection's goal is to get the right horse in the right home. To ensure the horses are never hurt again. We are committed to these horses for the rest of their lives. If a horse's new partner doesn't work out, the horse can come back to Horse Protection. It's not about getting these horses into just any home. It's about finding the right forever home.
In addition Horse Protection Association of Florida provides assistance to Law Enforcement and Animal Agencies with cruelty investigations and the care and placement of horses. Horse Protection promotes and teaches equine cruelty investigations,  horse care and humane, natural methods of training for horses.
Join us by Donating, Adopting, Making a Difference. Horse Protection is always looking for volunteers, donations, items in-kind, and most importantly loving homes.