To report abuse or neglect you need to know what to look for
T
he
Henneke Body Condition Scoring System
, developed by Don Henneke, PhD, is a scientific method of evaluating a horse's body condition regardless of breed, body type, sex or age. It is widely used by law enforcement agencies as an objective method of scoring a horse's body condition in horse cruelty cases. The Chart is accepted in a court of law.
Six parts of a horse are checked in this system—the neck, withers (where the neck ends and the back begins), shoulder, ribs, loin, and tailhead. When using the Henneke system, you should always make physical contact with these parts, and the kind of touch you use is important. Simply stroking the animal lightly won't provide an accurate idea of the horse's condition; you have to apply pressure to each part in turn.
Body Condition Scoring System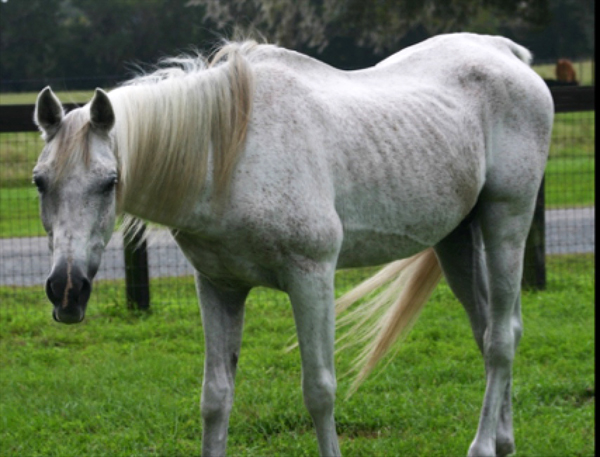 BCS 3 Thin
Fat build up about half way on the spinous processes. Transverse processes cannot be felt. Slight fat cover over ribs. Spinous processes and ribs easily discernible. Tailhead prominent, but individual vertebrae cannot be identified. Hook bones appear rounded, but easily discernible. Pin bones not distinguishable. Withers, shoulders and neck accentuated
How to report neglected, abused or abandoned horse(s)
In case of an emergency always call 911
You must have:
Physical address. If there is no address for the property, please have the county, the town or city and the closest physical address or intersection and the mileage and directions to the property from that point. Law Enforcement will not respond to a general location. You can use the GPS on your phone, and note the location when parked in front of the property.
Example of detailed directions:
In Bay County in Bay City from the intersection of NW 40th street and 120th avenue, head west on NW 120th avenue for 6/10th of a mile. Pasture is on the right (north) side of the road. Two bay horses and one chestnut.
Pictures. Please take pictures of the horse(s) if you can from a legal right of way.
Do not trespass or contact the animal's owner. A confrontation with a horse owner can impede an investigation and you could be charged with harassment or trespassing.
After you have reported the horse(s) to law enforcement please email the information and photos to Horse Protection so we may offer assistance to the agency if needed.
Where to report: Agencies by County in Florida to report neglected, abandoned or abused horses
*Denotes that the Sheriff's Office has a Ag Unit
Alachua Sheriff's Office*
352-367-4000
Baker County Sheriff's Office
904-259-2861
Bay County Animal Control
850-767-3333
Bradford County Sheriff's Office*
904-966-6380
Brevard County Sheriff's Office Animal Services
321-633-2105
Broward County Sheriff's Office
954-764-4357
Calhoun County Sheriff's Office
850-674-5049
Charlotte County Sheriff's Office*
941-639-2101
Citrus County Animal Services
352-726-1121
Clay County Animal Services
Or report online
904-269-6342
www.claycounty.gov
Collier County Sheriff's Office*
239-774-4434
Columbia County Sheriff's Office*
386-752-9212
De Soto County Sheriff's Office*
863-993-4700
Dixie County Sheriff's Office
352-498-1220
Duval County Sheriff's Office
904-630-0500
Escambia County Animal Control
850-595-0097
or Panhandle Equine Rescue
850-587-3565
Flagler County Sheriff's Office*
386-437-4116
Franklin County Animal Control
850-670-4733
Gasden County Animal Control
850-627-9233
Gilchrist County Sheriff's Office*
352-463-3410
Glades County Sheriff's Office*
863-946-1600
Gulf County Sheriff's Office
850-227-1115
Hamilton County Animal Control
386-792-1212
Hardee County Sheriff's Office*
863-773-0304
Hendry County Sheriff's Office*
863-675-2446
Hernando County Sheriff's Office*
352-754-6830
Highlands County Sheriff's Office*
863-402-7200
Hillsborough County Sheriff's Office*
813-247-8200
Holmes County Sheriff's Office
850-547-4421
Indian River County Sheriff's Office*
772-569-6700
Jackson County Sheriff's Office
850-482-9624
Jefferson County Sheriff's Office
850-997-2523
Lafayette County Sheriff's Office*
386-294-1222
Lake County Sheriff's Office*
352-343-2101
Lee County Sheriff's Office
239-477-1000
Leon County Animal Services
850-606-5400
Levy County Sheriff's Office*
352-486-5111
Liberty County Sheriff's Office
850-973-4151
Madison County Sheriff's Office
850-973-4151
Manatee County Sheriff's Office*
941-747-3011
Marion County Sheriff's Office*
352-732-8181
or Marion County Animal Services
352-671-8727
Martin County Sheriff's Office*
772-220-7000
Miami-Dade County Sheriff's Office*
305-476-5423
Ag Unit
786-657-3233
Monroe County Sheriff's Office
305-853-7021
Nassau County Animal Services
904-530-6150
Okaloosa County FL Dept. Ag Law Enforcement
850-613-2203
Okeechobee County Sheriff's Office*
863-763-3117
Orange County Sheriff's Office*
407-254-7000
Osceola County Sheriff's Office*
407-348-2222
Palm Beach County Sheriff's Office*
561-688-3000
Pasco County Sheriff's Office*
727-847-8102
Pinellas County Sheriff's Office
727-582-6200
Polk County Sheriff's Office*
863-298-6200
Putnam County Sheriff's Office*
386-329-0800
Saint John's County Sheriff's Office*
904-824-8304
Saint Lucie County Sheriff's Office*
772-462-7300
Santa Rosa County Animal Services
850-983-4680
Sarasota County Sheriff's Office*
941-861-4087
Seminole County Sheriff's Office*
407-708-7600
Sumter County Sheriff's Office*
352-569-1600
Suwannee County Sheriff's Office
386-362-2222
Taylor County Sheriff's Office
850-584-7017
Union County Sheriff's Office
386-496-2501
Wakulla County Animal Services
850-745-7100
Walton County Sheriff's Office*
850-892-8182
Washington County Animal Services
850-638-6306
Volusia County Sheriff's Office*
386-736-5961
If your horse is Lost or Stolen Horses in Florida:
Report to your local Sheriff's Office
Report to Florida Department of Law Enforcement 800-342-5869
Report to the Stolen Horse International