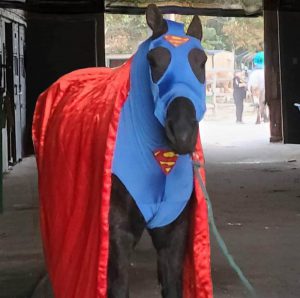 Be Our Hero!
Volunteers are the backbone of our program. We always have volunteer opportunities available. There are no words to describe the rewarding experience you will gain from becoming a Horse Protection volunteer.
Here is what Tamara Hoyland said after her first time participating as a Horse Protection volunteer:
I wanted to thank you for my "experience" at Horse Protection Association of Florida. I have been emotionally changed. When I left Saturday my feet were soaked, I was wet, dirty, and I loved every minute of it. I have not been able to stop thinking of Horse Protection and the team there and the enormous undertaking of this Association.

After reading all of the literature and newsletters, I was so moved by the stories, and the wonderful people involved and helping. I must tell you I was heartbroken by the story of the slaughterhouse, I had no idea, and the multiple stories of neglect, etc. I felt so insignificant, and what could I offer, what could I do, I do not have the talents or the experience of this team, but I feel I have to do something, anything!

I will be "campaigning" for Horse Protection for sponsorship and donations. I will talk to those I know. I will persuade others to support financially and hopefully make some difference.

I feel very "privileged" to volunteer and learn. I was thrown from a horse when I was a young girl and have never been back on. I have always loved horses and admired them but have not been around them since being a child. I hope to have the privilege to have horses someday, but have so much to learn and understand the responsibility and dedication it will take—that is one of the reasons I wanted to volunteer, to learn—and of course most importantly help.
---
We welcome individuals and groups to volunteer. And if you're not sure what you can do, but have a heart to help, contact us anyway! We'll have a conversation about your interests and get you on a list for future opportunities.
A few of the possibilities…