Enjoy a quiet morning with us at Horse Protection.
Horse Protection resides in Micanopy, Florida. Our peaceful facility of over 100 acres is made possible by a generous friend who donates her land. The soil composition of our facility limits the number of horses we can accommodate, especially in the rainy season. Our site is expertly managed by our farm staff. Visitors are welcome during scheduled events and by appointment. Contact Executive Director, Christine Massinger for more information.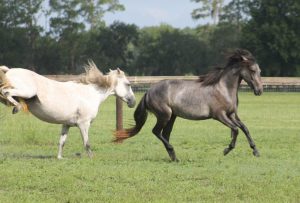 Room to Roam
Horse Protection is looking for a gift of land or a long term no payment lease where the annual value is considered a tax-deductible donation, so that we can save more horses.
We are seeking 100 or more acres in Marion County near the Ocala area. The acreage would need to have facilities (barns, etc.) for the horses.
Please consider us for this tax-deductible donation. To discuss a charitable donation of land please reach out to Executive Director, Christine Massinger or 352-207-3079.