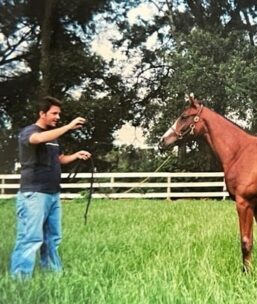 Mr. Colby Vine is the Director of Aviation for the New York Yankees and leads in the hiring, training, and mentoring of personnel within his division. Mr. Vine is the proud author of the General Operations Manual and Safety Management Manual which assists in the safe transportation of all of the New York Yankee executives.
Mr. Vine serves as a Designated Pilot Examiner wherein he is responsible for evaluating and approving pilot and flight instructions for the Federal Aviation Administration through practical examination. Additionally, he serves as a Certified Flight Instructor. He received his Master of Science in Aeronautics from Embry-Riddle Aeronautical University where he graduated with honors.
A lifelong equestrian, Mr. Vine began coaching riders at age 18 for the USEF and continued to train horses from weanling to the show ring.
He is married to his childhood friend Katharine Fowler. They reside on their horse farm located in Ocala Florida. Colby and Katharine are the proud parents of three horses: Domino-a 27-year-old North American Oldenburg, Spencer- a 17-year-old Thoroughbred and Trinket- a 15-year-old Welch-Thoroughbred pony. In the picture attached, Colby is shown with his beloved horse, Spencer.